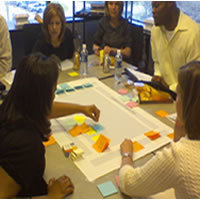 At Exceptional Outcomes, our Lean Six Sigma Master Black Belts will be the first to tell you that Lean and Six Sigma aren't always the answer. That's because we match the solution to the problem, not the other way around.
Although the consultants at Exceptional Outcomes are are either certified Lean Six Sigma Belts or Master Black Belts, they understand that each business problem is unique – and one methodology is not applicable to solve them all.
Our consultants are trained in several methods of Continuous Improvement. We also understand how important instituting a continuous improvement and problem solving culture is to a company's success.
We can provide your company the coaching, consulting and training to solve the issues it is currently facing. We can also provide the road map it needs to institute cultural and organizational transformations so that continuous improvement becomes integrated into the company's management practice.
Continuous Improvement Methods We Support
Lean
Six Sigma
Total Quality Management
Toyota Production System
TRIZ for Innovation
Theory of Constraints
Agile (for software development and other areas)
Kepner-Tregoe Rational Management
Services We Offer
Consulting
Coaching and Mentoring
Training
Continuous Improvement Program Implementation
Statistical Analysis
Leadership Development and Cultural Transformation.
Measurement System Setup and Managment
Advanced Statistical Analaysis
Proven Results
Click Here to read how Exceptional Outcomes utilized Design of Experiments in order to improve and Outbound Center's engagement rate from 9.8% to 22.8%.
Partnerships
We partner with some of the best process excellence firms in the country. You can argue that they are our competitors. Why do we do this? Because when you become a client, we make sure your process excellence needs are fully covered – even if we have to bring in a different shop.